From the Dean's Desk - Spring 2013
                                                                                                   Every day, too many headlines remind us that the brutality of racism is still with us. Too many signs of inequality testify that the dehumanizing history of slavery is still with us. A weary reluctance to face it remains with us too.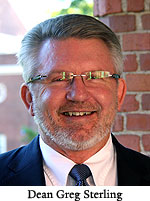 And it isn't getting easier, the issue of race. We stand today at a point in the national story where raw tensions between blacks and whites remain unresolved. At the very same moment, the dialogue on race, never simple, is expanding to include other groups in an American ethnic dynamic that continues in great flux.
     Demographic shifts – increases in Latino and Asian-American numbers, the coming eclipse of the white majority – make this a complex, challenging, adventurous era whether you are a parish minister, a national political strategist, a social-justice advocate, or a citizen trying to exercise your vote.
     With this Spring Reflections, we grapple with the multi-front subject of race, inviting some thirty contributors to share their latest thoughts and angles of perception on a long-simmering, sometimes eruptive theme. We were keen about the timing of this issue, which comes 150 years after the Emancipation Proclamation, fifty years after the March on Washington, and a few months after the reelection of the nation's first African-American president.
     This edition also coordinates with an unusual initiative at YDS since Fall 2012 – a focused period of discernment and conversation in various forums by students, faculty, and staff on race. As student Tyrone McGowan writes here, "I believe people of faith must find creative and redemptive ways that allow us to reimagine an alternative calculus of belonging."
     This issue features YDS faculty members but also practitioners beyond Yale who are preoccupied with our theme. The diversity of their arguments speaks to a turbulent, unfolding scene of national soul-searching and practice.
     For example, I think we'd all like to believe that the basic protection of minority voting rights – a battleground for the civil rights heroism of the early 1960s – is accepted by now. Yet as Emilie Townes points out, recent voter ID laws can look like voter suppression of the very groups who, just two generations ago, were fighting for their right – fighting for their lives – to be full citizens.
     Is Jim Crow dead? Michelle Alexander reminds us that the cruelty of that era can be reinstated in new forms, manifested today in a federal War on Drugs incarceration policy that disproportionately targets African Americans and other minorities.
     National self-congratulations on race relations are premature. It is hard to know where we are in the conversation. The last election season virtually ignored race as an issue. It is naïve to think that our collective silence is proof that we have moved beyond race. We ought to be asking ourselves why it is so difficult to discuss. Perhaps we ought to be probing our own habits of evasion or misapprehension.
     Reflections offers the following points of view not as a definitive statement on race relations but as a collection of dispatches from a contentious field of resistance and hope. May it spark conversation and action on a subject that still eats at the American soul. How we talk about it, whether with honesty and creativity or with hostility and distrust, will determine who we become as a people.