Eternal Grace, Moment to Moment
Time has no bounds in the presence of Henry O. Tanner's The Banjo Lesson, which he produced in 1893. As a Hampton University undergraduate, I spent hours at our university Museum sitting in front of this painting, which is considered the most famous work of this preeminent African-American artist.
My countless hours before this artwork were like church. I felt transformed.
Access to The Banjo Lesson was a luxury for the eye and the imagination. Resonant, captivating, intimate all describe the masterpiece, which features an elder African-American man teaching the famed instrument of African origins to a young boy, who we perceive to be his grandson. The painting majestically occupies a space in a stately gallery within the museum adorned with other works by Tanner. But The Banjo Lesson had by far the most impact on me, so much so that I never regretted losing track of time in its presence. Time had no bounds there before the unspoken depths of narrative figurative genius.  
Pandemic Solidarity
This last year has taught us the necessity of facing the unspoken and the unspeakable: we have generated spaces for being present to each other in a virtual society defined by distance, honoring experiences of pandemic sorrow and disbelief beyond words. Every greeting, pleasantry, and interaction has added to a new kind of paradoxical global solidarity precipitated by our mutual isolation. Once a privileged experience sought out in endless hours in museums, parks, or film festivals, isolation has been forced upon us all, transforming our concepts of time, proximity, and connection.
This new way of being challenges our deepest assumptions about the spiritual life. At the core of faith is relationship—with God and community, which is the antithesis of isolation. This communal engagement with time is the very thing that breeds our solidarity and defines much of our understanding of ourselves and one another. This past year we all had to adjust to something new.
Finding the Inner Life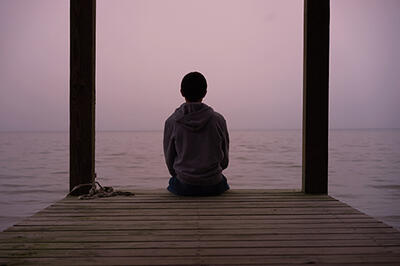 I have always been captivated by the arts, particularly visual art as a mechanism of communicating the unnamable. Artists such as Tanner were problem solvers and innovators who converted blank canvases into boundless masterpieces worthy of posterity. The complexity they envisioned awaited construction like a puzzle. "Art makes us feel less alone," writer Alan Moore once said. "It makes us think: somebody else has thought this, somebody else has had these feelings." My countless hours before The Banjo Lesson were like church. I felt comforted by artistic presence, challenged to envision possibility and hope. I felt transformed by the encounter. In fact, my time with The Banjo Lesson was built on a lot of congregational preparation. I grew up in Beaufort, SC, spending much time in the pews of the Friendship Baptist Church at murals representing biblical narratives, and stained glass windows that invited contemplation and reinterpretation, both ways of passing time as a kid finding a sense of timelessness.
I've had to fall back on some of those inner reserves to face what we've endured in the Covid era: losses and griefs, reckonings fueled by societal disparities, racism, and much else. Embracing the gravity of this unprecedented moment has challenged us to reconnect with our core and rediscover the ancient images waiting there. I think of Jesus' 40 days and nights in the wilderness and what that story offers me today by way of a resilient interior strength for surviving difficult times. The pandemic prompted a renewal of sorts as we were returned to foundational truths to make sense of the unexplainable, comfort us as we sought to maintain our sanity, and reconnect us with ourselves without the distractions that once disconnected us from our inner lives.
Survival Modes
There are many lessons to take from this year's experiences of insolation. First, it is important to honor the privilege many of us enjoyed despite our circumstances. This privilege: health, shelter, close community with loved ones as a chosen approach to survival. I had the privilege of being under the same roof with my parents and siblings, a first since childhood. This chosen path personally offered renewal, reflection, and connection at a much needed time.
I realize this kind of familial proximity was not an option for many who had to quarantine or shelter-in-place alone. But I hope that the joy of time and connection that people discovered can be sustained into the future—the Zoom calls, meetings, and dates; the scheduled happy hours and Bible studies; the on-demand entertainment, rituals of prayer, meditation, exercise; the discovery of new paths and hobbies. All this was in service to passing the one thing we never had enough of: time.
Art of the Commonplace
The arts have shown invaluable pathways to coping during this season too—from endless streaming options to the books, music, and other old friends we had long forgotten but now had time to revisit. Many of us looked inward to produce our own art and harness creativity, our gift from God.
But if I have to consider what this season has taught me, it can all be summed up by love. I learned to love the quotidian things that I once took for granted. I fell in love many times over with childhood passions like bike riding and walks in nature. At my core I learned what it means to be loved through tragedy by God, by family, and by those we allow to love us despite the odds. I also learned that grace, which is so often something we seek to promote and enact ourselves, is best left to its own power.
As never before, we are looking for reminders of the life we had before this unsettling moment. We are also looking for meaning. More than ever, I'm finding this meaning in the commonplace, from moment to moment, those places where we found ourselves "wasting" time that can now remind us that we all carry what we need within. As hard as we try to make our lives feel normal in these circumstances, the fact remains that these are not normal times. And that is okay because faith sustains us. And grace abounds.
Elijah Heyward III '07 M.A.R. is Chief Operating Officer of the soon-to-be-opened International African American Museum in Charleston, SC. Earning a Ph.D. in American Studies from the University of North Carolina, he has written about African-American history, popular culture, religion, and contemporary Gullah/Geechee culture. His experience includes fundraising, museum education, curation, and collaborative projects focusing on cultural preservation.